Windows
Mac

Alt

Enter

⌃

⌥

Return
About This Shortcut
Normally, when you press the Enter key, Excel moves the cursor to the next cell. To insert a line break (i.e. a new line) inside a cell, you need to use a shortcut. Here at the steps:
(1) Move the cursor where you want to break the line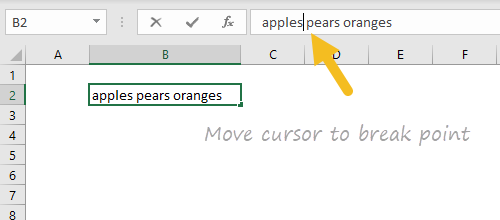 (2) Type Alt + Enter
(3) Make sure "wrap text"is enabled to see lines wrap in cell:

Notes
You can use this technique to make nested IF formulas easier to read.
You can also enter a new line using a formula.
Mac Excel 365 supports Alt + Enter. Otherwise see original shortcut above.
Related videos
The videos below demonstrate this shortcut.