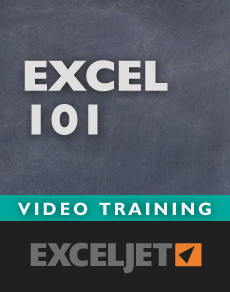 Just getting started with Excel? Our Excel 101 course will give you a solid introduction in just over an hour, complete with practice worksheets. When you want to go further, you can apply the full purchase price for Excel 101 towards Core Excel, a complete beginner-to-intermediate video course.
What you get in this course
Lifetime access to all videos 24 x 7 - learn online from anywhere
An accelerated, step-by-step program to introduce you to Excel
Guided practice - over 20 practice worksheets with answer keys
Both Win and Mac shortcut keys are highlighted in all videos
A free Excel Shortcut PDF with 200+ shortcuts
A no-hassle money-back guarantee (we want you to be 100% satisfied)
Video lessons in this course
A Tour of Excel
2
A tour of the Excel interface
3
A tour of the Excel Ribbon
Getting started
4
How to create a new workbook
6
How to navigate a workbook
7
How to undo and redo changes in Excel
The worksheet
8
How to select cells in Excel
9
How to select rows and columns in Excel
10
Shortcuts for selecting cells in Excel
Entering data
11
How to enter data in Excel
12
How to delete data in Excel
13
How to edit data in Excel
Building a Workbook
14
How to insert and delete worksheets
15
How to name and format worksheet tabs
16
How to move and copy worksheets in Excel
Formula basics
17
What is a cell reference?
20
How to enter a formula with cell references
Cell references
22
What's a relative reference?
Font formatting
23
How to format font and font size in Excel
24
How to change the font color in Excel
25
How to insert symbols and special characters in Excel
Borders and fills
26
How to apply a border to cells in Excel
27
How to apply a fill to cells in Excel
Conditional Formatting
28
What is conditional formatting?
What you'll learn
The basics
What is Excel?
How the ribbon is organized, and why tabs on the ribbon mysteriously appear and disappear when you select certain objects.
How to create and save a new workbook.
How to navigate through a workbook.
How to insert, remove, and rearrange worksheets, and how to color tabs to make then easier to see.
How to move and even duplicate worksheets (a huge time saver!)
How to select cells, and enter data
How to select cells (including entire rows and columns).
Shortcuts for selecting cells.
How to get Excel to expand column widths automatically, so you can actually see your data (works for multiple columns, too, you just have to know where to click).
How edit data you've already entered, and how to quickly delete data
How to undo mistakes you made "a while back" (by default can step back through your last 16 actions when you need to).
How to "cancel" a change you don't want to make, by pressing just one key. (You'll use this every day.)
Formulas
How to enter both formulas and functions (and how they differ).
How to enter and verify references by pointing and clicking (a good way to prevent Excel disasters).
How relative references really work and why they are so useful.
How to edit an existing formula.
Formatting
How to change font, size, and color.
How to insert special symbols in Excel like ™, ®, © etc.
How to a border to one or more cells, and something called a "fill" (background color).
What conditional formatting is and why it's helpful.
Q + A
Why Excel 101?
The short answer is that Excel remains a critical tool at the center of a huge number of business decisions. And yet, a huge amount of time is wasted every day by intelligent people trying to solve typical business problems with Excel. It's not their fault. Excel is complicated, and almost no one gets good training.
If you've never really used Excel, Excel 101 gives you a quick introduction. Each video is short – typically 3 minutes or less – and all videos come with a practice worksheet that you can download directly below the video. The course is is self-paced, so can move through it as fast or slow as you like.
Will the course work for both Windows and Mac?
Yes, but there are some differences in the Mac and Win interface. The videos were recorded in Excel 2010 on Windows 7. All videos show shortcuts for both Windows and Mac.
Do you have a guarantee?
Of course! If you aren't happy with the course, just let us know within 30 days and we'll give you a full refund. We're always interested in your feedback (so we can make the course better), but this a no-quibble guarantee. We want you to be completely happy.
How do I access the course content?
When you purchase the course, an account will be created for you automatically on the Exceljet website. You'll receive an email immediately with a link to login, and when you do log in, you'll have full access to all videos and practice worksheets for the course(s) you purchased.
Why short videos?
You must learn Excel by doing, there is no other way. Our videos are short and focused, so you can immediately practice what you've learned, and come back any time for a quick refresher.
Your Satisfaction Guaranteed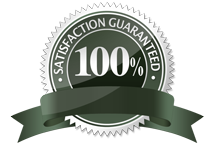 If you're not completely satisfied, let us know within 30 days for a full refund. We want you to be 100% satisfied.