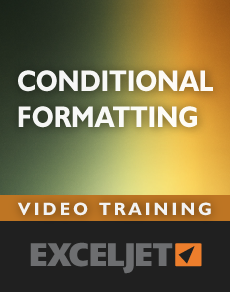 One of the hottest trends today is data visualization. Why? Because when data is presented visually, people understand it immediately. This course will show you how to use Excel's conditional formatting to communicate key insights with clarity and impact. This is an accelerated program that takes you step-by-step through the capabilities of this powerful tool.
What you get in this course
An accelerated, step-by-step program for Conditional Formatting
Guided practice - over 15 worksheets included for immediate practice
Both Windows and Mac shortcuts in all videos
A free Excel Shortcut PDF with 200+ shortcuts
Lifetime access to all videos 24 x 7 - learn online from anywhere
A 30-day money-back guarantee (we want you to be 100% satisfied)
What people are saying
I LOVE your lessons on conditional formatting. All sorts of new and better ways. That's been a real weak point for me, and you have great examples. -Sally
What you'll learn
The basics
What is conditional formatting?
How conditional formatting is applied with rules.
How to create, manage, and delete new conditional formatting rules.
Kinds of conditional formatting
How to use conditional formatting to highlight top and bottom values
How to use conditional formatting to mark values that are above or below average.
How to use conditional formatting to create in-cell data bars.
How to use color scales with conditional formatting.
How to apply conditional formatting with icons.
How to highlight specific text with conditional formatting.
How to show duplicate values with conditional formatting.
Custom conditional formatting with formulas
How to apply conditional formatting with a formula. Formulas are the gateway to more powerful and flexible conditional formats.
How to apply Conditional formatting based on a value in a different cell
How to use Conditional formatting with variable inputs. This pro tip lets you set up a rule, then change its behavior by changing values on the worksheet.
How to highlight rows with conditional formatting formulas. This is a classy technique that you can use all the time to build cool-looking worksheets.
How to test a conditional formatting formula. When you're creating new formulas, the trickiest problem is to make sure the formulas are working correctly. You'll learn a simple way to confirm your formulas before you waste a lot of time.
Practical applications
How to add a dynamic conditional formatting "key" (a cool trick).
How to highlight lines that are "too long" with conditional formatting - a great example of how to use CF for quality control.
How to build a search box with conditional formatting. Filtering to find data works, but it hides everything else. With this clever formula, you can easily highlight just the data you're looking for and leave the rest alone for reference.
How to calculate and highlight expiration dates - quickly highlight dates that are within 60 days, 30 days, or any time frame you need.
How to do zebra striping with conditional formatting - with simple formulas, you can apply "zebra stripes" with exactly the formatting and logic you want. This makes it really easy to toggle formatting on or off as you like for a polished and professional effect.
Q + A
Why Conditional Formatting
Conditional formatting is one of the most useful, but underutilized tools in Excel. By instantly "visualizing data" conditional formatting can highlight important information in a way that your eye just won't see. It's a great for busy managers who like to scan for the most important information.
How is the course delivered?
This course is delivered as videos streamed directly to your computer, 24 x 7. Each video is short – typically 3 minutes or less – and all videos come with a practice worksheet that you can download directly below the video. The course is is self-paced, so can move through it as fast or slow as you like.
Will the course work for both Windows and Mac?
Yes, but there are some differences in the Mac and Win interface. The videos were recorded in Excel 2010 on Windows 7. All videos show shortcuts for both Windows and Mac.
Do you have a guarantee?
Of course! If you aren't happy with the course, just let us know within 30 days and we'll give you a full refund. We're always interested in your feedback (so we can make the course better), but this a no-quibble guarantee. We want you to be completely happy.
How do I access the course content?
When you purchase the course, an account will be created for you automatically on the Exceljet website. You'll receive an email immediately with a link to login, and when you do log in, you'll have full access to all videos and practice worksheets for the course(s) you purchased.
Why short videos?
We think people learn best with examples that are quick, clean, and to the point. Short videos make it easy to learn, and easy to find and review a topic when needed.
Contact us to find out about special pricing for students, companies, or groups.
Your Satisfaction Guaranteed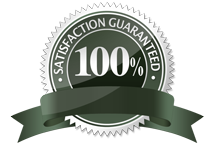 If you're not completely satisfied, let us know within 30 days for a full refund. We want you to be 100% satisfied.